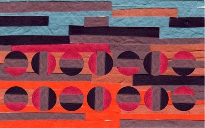 Designed for Felt power
Design work is an important component of the City & Guild Foundation Course.
You are not just learning how to be an accomplished felt maker, you are learning how to make exceptional felt that is based on excellent design principles.
Equipped to be a true craft artisan
Through learning and creating samples in many felt techniques from a traditional and contemporary perspective, you will develop your skills and see how your design work can be interpreted in felt.
Luscious tactile experiences
Felt is such a hands-on process where all your senses are stimulated in many ways
Felt making - a traditional process
What to try something exotic? Why not have a look at a YouTube video that Cheryl has created on how to felt with unprocessed alpaca fibre.